Many years ago, before the Internet, I used to do some freelance writing for the venerable Penthouse Forum magazine. Forum was one of the earliest adult magazines to run thoughtful articles and stories about kink and BDSM activities. As far as I knew, Forum ceased publication after the bankruptcy of previous owner General Media, so I was surprised to see that Xbiz had a story about a revived version of the magazine.
The Xbiz article notes that in an apparent break from mainstream practice, Forum is featuring a plus-sized model, Kelly Shibari, on its cover. The part that really interested me, however, was the magazine's disclaimer that it wasn't featuring her in response to pressure from feminists, some of whom like to claim that all "real" women are overweight:
We're not trying to be politically correct. We're not doing this to 'prove a point.' And we're sure as shit not doing this to assert, as some second-generation, post-modern feminists do, that 'this is what a real woman looks like.'
So is the magazine really featuring Ms. Shibari for the sake of doing something different, or is it all a cynical ploy to appease anti-porn feminists? I sincerely hope it is the former.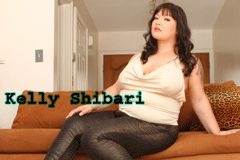 Kelly Shibari Becomes 1st Plus-Size Model on 'Penthouse Forum' Cover