Impact on the adult industry: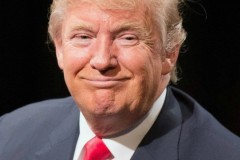 Studio Heads Weigh In on Trump as President
Donald Trump triumphed last night, and now the adult entertainment biz is trying to figure out what it all means. Read more>>
"… Trump went on record saying that pornography should be illegal," (Penthouse owner Kelly) Holland said. "Face it, Trump is the puppet. The strings will be pulled by his ultra-conservative vice president, [Mike] Pence, his presumptive attorney general, [Rudy] Giuliani and the rest of the alt-right that will pull the strings.
---
Impact on the Internet:
From DSL Reports:
Trump Could Spell Big Trouble for Broadband, Net Neutrality
While Hillary Clinton was seen as overly-cozy with telecom in her own right, new President elect Donald Trump is already laying the ground work for an administration that could spell major trouble for broadband consumers, broadband competition, and the nation's new net neutrality rules. Trump has made it clear he vehemently opposes net neutrality, despite repeatedly making it clear he's not entirely certain what net neutrality even is.
More from DSL Reports
On a positive note for companies like AT&T, Trump has given every indication that he opposes net neutrality — despite seemingly not understanding what it is. And while his telecom policy proposals have been murky at best, a Republican-controlled FCC is likely to kill numerous policy efforts including cable box reform and efforts to bring additional competition to bear on industry incumbents.
More from Gizmodo:
Donald Trump does not support net neutrality. Actually, he thinks it will lead to the censorship of conservative media. "Obama's attack on the internet is another top down power grab. Net neutrality is the Fairness Doctrine. Will target conservative media," he tweeted in 2014.