Xbiz reports that UK Internet users can now sign an online petition to protest the invasive, privacy-killing requirements of the recently passed "Investigative Powers Bill." The bill, if approved, would require that ISPs monitor and store large amounts of information about Internet users' browsing histories. Combined with the proposed adult-website age-verification measure, the UK would mandate the collection and storage of highly sensitive and intimate information about users, increasing the risks of misuse by hackers, blackmailers, and rogue agencies.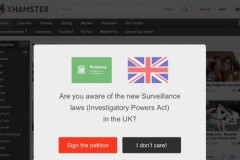 xHamster Asks U.K. Users to Sign Petition
xHamster.com today started urging users in the U.K. to sign a petition calling for the repeal of the Investigatory Powers Bill, which recently wended its way through Parliament and now awaits royal assent, which would turn the piece of legislation into law.
Read More>>